The Åland (FIN) born soprano Frida Johansson has graduated from the Opera Academy in Stockholm.
Alongside her studies, she participated in several productions – as Papagena in The Magic Flute at Confidencen and at The Royal Opera in Stockholm and Despina in Cosi fan Tutte at Drottningsholm Theatre. Frida has also done roles like Maria in West Side Story at the Norrland Opera, Julie, in J. Benda's Romeo und Julie at the Vadstena Academy, Belinda in Dido & Aeneas and Magnolia in Showboat and was one of the soloists in the newly written opera Näsflöjten where she made no fewer than nine different roles. Frida was one of the participants in the Finnish TV documentary series "The Mastersingers".
Frida Johansson has been awarded in selection Anders Wall Confidencen scholarship in 2011, Caj Ehrstedts price in 2011, The Friends of the Vadstena Academy's scholarship 2010 and Martin Öhman scholarship 2008.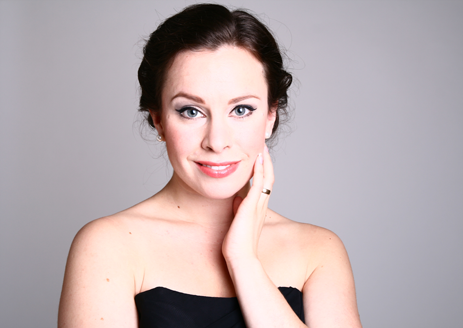 Frida sang 1.niece in Peter Grimes at the Norwegian National Opera & Ballet in October and November 2011, and Maria in spring 2012 in an original production of "West Side Story" in the newly built Kilden, the theatre-, opera-, and concert house in Kristiansand, Norway. Frida has been contracted at The Norwegian National Opera & Ballet for the season 12/13, including a tour during summer 2012 to Savonlinna Opera Festival, Finland, with a role in "4. nattevakt" by Gisle Kverndokk. She returned to Savonlinna in summer 2014 to sing Papagena in "The Magic Flute". The year after she did the same role at The Royal Opera in Stockholm. Season 16/17 Frida portrayed Gerda, the leading female role in the world premiere of "The Snow Queen" by Benjamin Staern at Malmö Opera.
In summer 2017 Frida returned to Åland and makes her role debut as Susanna in "The Marriage of Figaro". In season 17/18 a new role debut: Amor in Norrlandsoperan's production of "Orpheus and Eurydice".
Season 18/19 was spent at Malmö Opera: Maria in "West Side Story" and Gerda again at the return of "The Snow Queen". Autumn 2019 Frida was back at The Royal Opera in Stockholm as Papagena in "The Magic Flute". Delayed "Snow Queen" opening in Stockholm 21/22, same production as in Malmö.