Hamida Kristoffersen is a lyrical soprano from the remote Bjarkøy island, in the very north of Norway. Hamida is part of the soloist ensemble at Opernhaus Zürich from 2016.
She made her opera debut as Mother Mouse in Arctic Opera's production of the modern opera "Mrs. Pepperpot as Princess Pompadur", march 2011, and had her role debut as Mimi in their highly phrased production of Puccini's "La Boheme" the year after followed by Contessa in "Le Nozze di Figaro" in a short version in Norwegian language, for the same house.
Hamida took her Bachelor and Master Degree at the University of Tromsø, with vocal professors Anne-Lise Sollied Allemano and Carlo Allemano, and are continuously taking lessons with Njål Sparbo. Hamida has participated in master classes with Kiri te Kanawa, Monica Groop, Barbara Hendricks, Elizabeth Norberg-Schulz, Larisa Gergieva, Elisabeth Meyer-Topsøe, Siri Torjesen and Enza Ferrari. Hamida won the competition "Premio Verdi" in april 2013, a collaboration between the Italian institute of culture in Oslo and the Norwegian National Opera and Ballet, to celebrate the 200th anniversary of Giuseppe Verdi`s birth.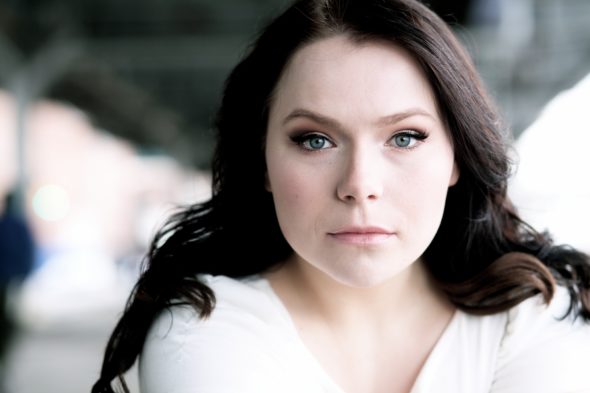 She was in the semifinals in the Belvedere singing competition in June 2013, and Hamida was one of the five finalists in The Queen Sonja International Music Competition in August the same year. She won the Ingrid Bjoner scholarship and the prize for best performance of Norwegian music.
During summer 2014 Hamida participated in European Opera Centre and Liverpool Philharmonic's production of "Cosí fan tutte" as Despina and took part in the prestigious Ravinia Festival's program for singers in Chicago.
Hamida was a member of the Opera Studio at the Zürich Opera from September 2014 – June 2016 and sang roles at Opernhaus Zürich as Laura in "Luisa Miller", Tamiri in "Il re pastore", Gianetta in "L'elisir d'amore", Amina in "Traviata", Lady-in-waiting "Macbeth" and Masha in "The Queen of Spades". In December 2014 Hamida jumped in as Pamina in Mozart's "The Magic Flute" on short notice at Opernhaus Zürich. The role debut was described as "a triumph".
In October 2014 Hamida made her debut with Oslo Philharmonic Orchestra and in 2015 she made her debut at the Norwegian National Opera in the role of Micaela in "Carmen".
An Opera Concert Tour with The Arctic Opera in the north of Norway took place in 2017, and so did Mimi in "La Bohème" at Opera Hedeland in Denmark.
Hamida sang Gretel in "Hans und Gretel" and Diane in Rameau's "Hippolyte et Aricie" in Zurich in the 18/19 season. In 2020 she sang Gretel again the The Norwegian National Opera.
Future engagements awaits in Bregenz, Bergen, Tromsø and Zurich. Hamida lives in Copenhagen.